Gift-giving can be a special moment, especially when it comes to the Capricorn man.
However, the Capricorn man can be quite picky when it comes to receiving gifts.
Let's first take a look at what it means when a Capricorn man gives you a gift. Then we'll talk a little bit about great gift ideas for reciprocating the process.
What Does It Mean When A Capricorn Man Gives Gifts?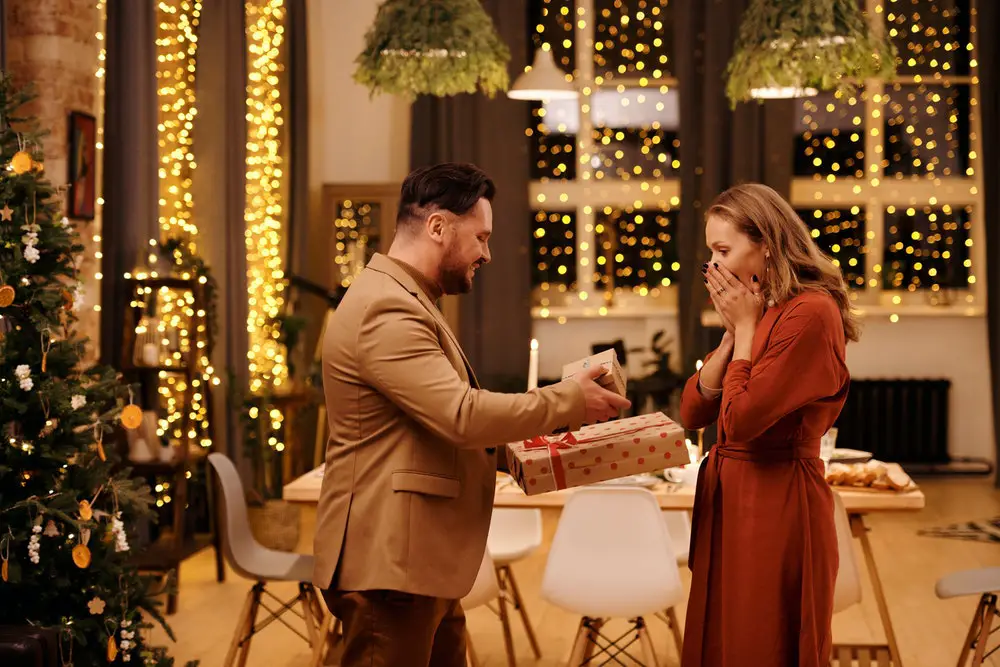 The materialistic personality of the Capricorn man exists to show that he can take care of his woman, as he finds enormous pleasure in buying gifts for his woman. It is not unusual for him to bring her gifts.
Gift giving is a Capricorn man's love language in which showering you with gifts lets you know that he loves you.
A Capricorn man does not spend his money frivolously, and his gift-giving can be expensive with a sentimental ambiance.
Do Capricorn Men Like Gifts?
He's been showering you with gifts and giving full attention to what it is that you like, it's time to return the favor, but what does a Capricorn man like, and does he like getting gifts?
Most people like getting gifts, however, a Capricorn man appreciates a gift that is practical and can be useful in his everyday life. In other words, they really don't want presents that are ornamental or useless.
If you happen to make an impulse purchase for the Capricorn man, then the higher the chances are that he's not going to be interested in it. There's going to need to be a little bit more effort.
A Capricorn would rather get something that can have long-term use. The Capricorn man is very hard-working and goal-driven, so he also doesn't want any type of gift that's going to distract him from working on his goals. A video game is a great example of this, as it's nearly a distraction for him or simply wasting time.
So yes, the Capricorn man does overall like gifts, just as long as he has a use for it. Let's now talk about some ideas that a Capricorn man might like for gifts.
Buying A Capricorn Man Gifts (Ideas)
What do you give to a Capricorn who already has everything? Well, according to the aforementioned paragraph, you give him something practical that can be used in his everyday life. Examples include:
A flask.
A watch.
An alarm clock.
A leather wallet.
Comfortable clothes that he loves.
A new laptop (if the old one is getting a little too slow).
A new stand-up desk for his computer (if he uses it often).
If you take another glance at the list above, you'll notice that these are all things that can be used not only often, but for a very long time. That's exactly where you want to be when it comes to getting gifts for a Capricorn man.
To really wow the Capricorn man, you can also personalize the watch, wallet, and flask which would fall under and match his sentimental ambiance. You can also pamper a Capricorn man with amazing dishes, as it is a sure-fire way to let him know that you love him.
His ambition and go-getter attitude might sometimes takeover and not leave much room for fun and adventure, but this is where you come in by making him take some time out adding thrills back into his life.
How To Spoil And Surprise A Capricorn Man
Here are a few ways that you can show a Capricorn man some love.
Make his life full of adventure and fun.
Show him that he can trust you by listening and becoming his sole confidence.
Feed him delicious meals in which you are very particular about what he enjoys.
Most importantly, show him that he's your world by giving him your undivided attention, help solve his problems, and be there for him.
That's one of the best ways that you can both spoil and surprise a Capricorn man. Another great to spoil him is to make dinner for him. given the fact that the Capricorn man is hard-working, he's going to really appreciate the effort that you put forward for him.
After all, what man doesn't love a little relaxation while also being able to enjoy a fine, home-cooked meal?
Closing Words About Capricorn Man Giving Gifts
So you've got nothing to be worried about, as a Capricorn man giving gifts is definitely a great sign. Unless, of course, he was forced to give those gifts which can happen such as with a Secret Santa exchange.
The Capricorn man usually doesn't have a whole lot of free time on his hands, so just think about what the Capricorn man went through in order to give specific gifts:
He took the time to think of the perfect gift ideas.
He went out of his way to go pick the perfect gift from a store.
And don't forget about the nice bow around the gift for a nice touch.
In short summary, anytime the Capricorn man makes a sacrifice from his normal routine, take that as a great sign. After all, the Capricorn man is all about keeping things constant and structured.
And when it comes to getting a gift for the Capricorn man? Make sure that you really put some thought into it. You just never know how far that gift can go, especially when you catch him by surprise.
The best gift that you can give the Capricorn man is the gift that he never even knew that he needed. Take some time, do some research, and the Capricorn man will move mountains for you.