Just getting to know an Aquarius man can be a dream come true for some women. So when it comes to learning more about him, the common thought always seems to come up:
Is the Aquarius man dominant or submissive?
Let's talk about that as well as what you can expect from an Aquarius man in relationships, as well as a few other important aspects that you've probably been thinking about.
Are Aquarius Submissive Or Dominant?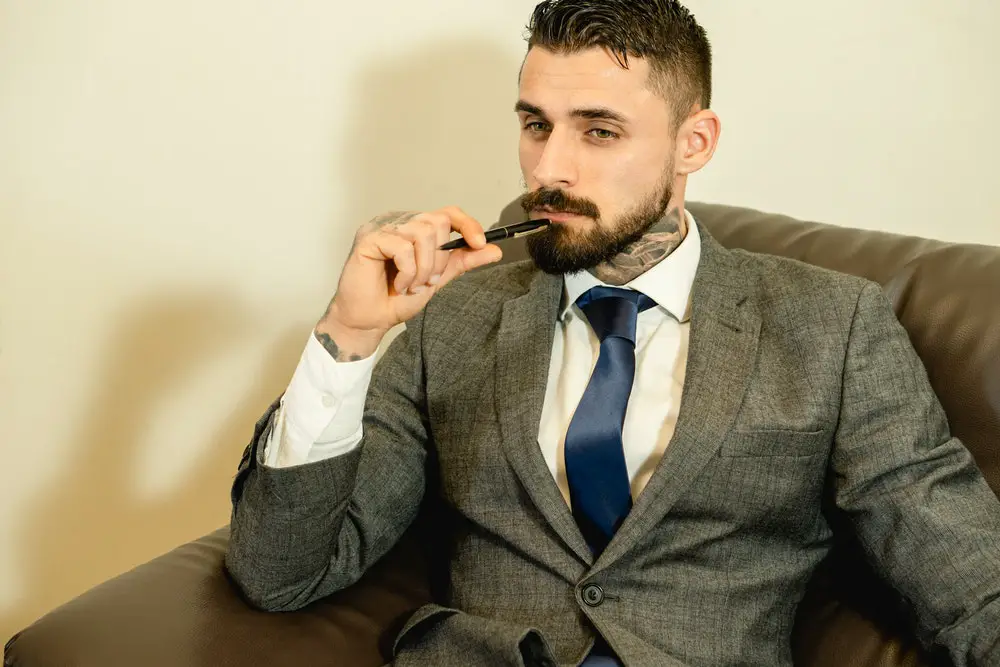 The Aquarius man is certainly dominant; whether or not it's for a potential partner, new partner, or just a friend that you probably want to get to know them better.
Be sure to keep reading on to find out why being dominant goes hand in hand with the rest of the Aquarius man's characteristics.
1) The Aquarius Man Is An Expert Communicator
Aquarius males do very well when communicating with their partners. They'll directly let you know how they feel, what they want and need, and their desires.
They'll not only tell you about their own feelings but intently listen to yours as well and give respectful, thought-out replies. This leads to a healthy relationship and removes the constant wondering and doubtfulness of some relationships.
You don't need to worry about what the Aquarius man is feeling, and you won't have to make any guesses, because he will tell you.
Being a great communicator, causes them to be the dominant ones because they know their feelings and what they want, so they often lead the charge in whatever situation you'll find yourself in.
2) The Aquarius Man Is Creative And Open-Minded
Most Aquarius males tend to be very open-minded and creative. They think outside the box which leads to unique problem solving and sometimes great works of art.
Whether it be paintings or poems, Aquarius males know how to express themselves in other ways than just words.
They're definitely very open-minded and a little eccentric. They're imaginative and intellectually curious. They love art and consume a lot of books, music, movies, and other types of culture.
Aquarius men are always looking for a new experience to try out and would love to experience it with their partners. Being open-minded, they always have some new idea cooking up in their head, and that can lead to them being very spontaneous.
All this causes them to be dominant because they like to take charge of what you and he do together since they definitely have some type of idea as to what they want to do in any particular situation.
They're very passionate about their intents, you often get swept up in their ideas and get as excited as he will.
What Are Aquarius Like Sexually?
Sex brings out Aquarius's creative and open side. They're experimental and curious. They like trying new things to find what they find pleasurable and what their partner finds pleasurable as well.
Just like in every other aspect of an Aquarius's life, they have a strong thirst for knowledge and new experiences. To feel fulfilled sexually, the partner of an Aquarius should also be creative and open-minded in the bedroom, or else an Aquarius man may get bored if you can't keep up with their curiosity and desires.
Foreplay is very important to the Aquarius male, not for their own pleasure but to find out what their partner enjoys. There's lots of room to experiment during foreplay and they will take full advantage of that by trying all sorts of things on their partner.
If they discover something new that their partner likes it heavily turns them on. It doesn't matter if it's their first time with a partner or the hundredth time, an Aquarius man will always try new things so it doesn't get stale in the bedroom.
Aquarius men love sex that's filled with passion. They'll put their all into it whether it be physically or emotionally. Having an emotional connection with their partner makes sex a whole lot more interesting than a partner they don't have a connection with.
Who an Aquarius is sleeping with has a big effect on what they do during sex. Intimacy will bring out their passionate side. What their partner likes will guide them through the act.
When it comes to kinkiness, an Aquarius is at the top of the list of zodiac signs. Since they're so open-minded they'll try about anything at least once. To find out what an Aquarius man finds hot all you have to do is ask them as they are great communicators.
In general, they find mental stimulation extremely sexually appealing. The signs they're most compatible with are Geminis, Leos, Libras, Sagittarius's, and other Aquarians.
As you can guess the Aquarius man will most likely be the dominant one during sex.
How Is An Aquarius Man In A Relationship?
In a relationship, an Aquarius man absolutely needs a mental connection with their partner. They're very logical and intellectual, so they like to discuss ideas and intellectual thoughts.
For a relationship with an Aquarius to work you have to be the best of friends. Since friendship is so important to them they make a good partner who is a social butterfly as they are great in a group setting.
Aquarians are very individualistic since they value their individuality so much they respect their partner's individuality as well. In a relationship with an Aquarius man. you'll never feel like they are too controlling or possessive. You can always be yourself in this relationship.
A negative aspect of dating an Aquarius is that while there may be a strong mental connection, but the emotional side may be lacking.
If you need constant validation in a relationship, you might not get it from an Aquarius. They can also be afraid of commitment, so they may not fit your romantic timeline.
Since an Aquarius male is so independent and full of ideas, they are often pretty dominant in a relationship. That they control you per se, but they like to take charge of most situations.
Are Aquarius Males Dominant? Closing Words
The answer is yes they are. They like to take charge in the bedroom, in conversations, and in other aspects of a relationship. They know what they're feeling and know what they want.
If they want something or have some idea they are extremely passionate about it and won't let anything get in their way.
If you're going to date an Aquarius man just give them their independence and make sure you can keep up with them.